International
Schools directory
Resources Jobs Schools directory News Search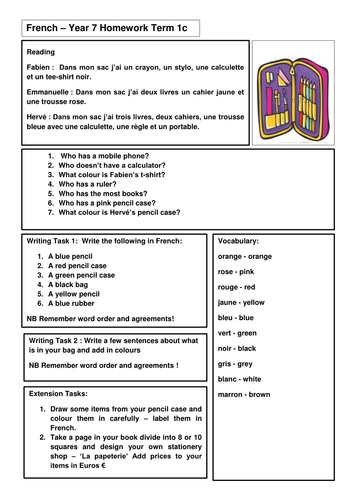 Year 7 French Homework
Subject: French
Age range: 11-14
Resource type: Worksheet/Activity
Last updated
3 February 2015
Share through email
Share through twitter
Share through linkedin
Share through facebook
Share through pinterest
Creative Commons "Sharealike"
Your rating is required to reflect your happiness.
It's good to leave some feedback.
Something went wrong, please try again later.
Empty reply does not make any sense for the end user
Merci beaucoup
liz_kingsley1
Thank you for sharing - excellent for remote learning!
Really useful worksheet for students to complete in silence during a speaking assessment
Excellent resource using it with Year 5.
Report this resource to let us know if it violates our terms and conditions. Our customer service team will review your report and will be in touch.
Not quite what you were looking for? Search by keyword to find the right resource:
Free Printable French Worksheets for 7th Year
Foreign language French worksheets for Year 7 students! Discover a variety of free, printable resources to enhance your students' learning experience and support their language development journey.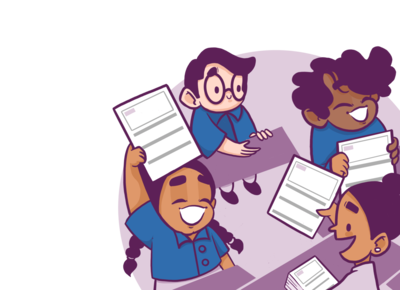 Explore French Worksheets by Grades
Explore Other Subject Worksheets for year 7
Social studies
Social emotional
Foreign language
Reading & Writing
Explore printable French worksheets for 7th Year
French worksheets for Year 7 are an essential resource for teachers looking to enhance their students' foreign language learning experience. These worksheets provide a variety of engaging activities and exercises that cater to the unique learning needs of Year 7 students, helping them build a strong foundation in the French language. By incorporating these worksheets into their lesson plans, teachers can ensure that their students are exposed to diverse learning materials that cover a wide range of topics, such as grammar, vocabulary, reading comprehension, and listening skills. Furthermore, these French worksheets for Year 7 are designed to align with the curriculum standards, making it easier for teachers to track their students' progress and identify areas that may require additional support or attention.
Quizizz, a popular online platform for creating and sharing interactive quizzes, offers a vast collection of French worksheets for Year 7, along with other valuable resources for foreign language teachers. By utilizing Quizizz, teachers can access a variety of pre-made quizzes, games, and activities that are specifically tailored to the needs of Year 7 students. These resources not only help reinforce the concepts covered in the worksheets but also provide an engaging and interactive learning experience for students. Additionally, Quizizz allows teachers to track their students' progress in real-time, enabling them to identify areas where students may be struggling and adjust their lesson plans accordingly. Overall, Quizizz serves as a comprehensive and user-friendly platform for teachers to access and share high-quality French worksheets for Year 7 and other foreign language learning materials.
Resources you can trust
KS3 French resources
French teaching resources for years 7, 8 and 9.
Explore our French teaching resources for key stage 3 learners, including vocab games, present tense worksheets, phonics activities, knowledge organisers on key topics such as free time and family members, and practice of core national curriculum content and language learning skills.
For GCSE French resources, browse our KS4 French resources collection. For Spanish teaching resources, try  KS3 Spanish .
(-) Show all (475)
Languages (237)
French (236)
Primary (1)
Spanish (1)
All key stages (361)
(-) KS3 (237)
(-) All global tags (187)
Speaking (50)
Vocabulary learning (49)
Translation (37)
Pronunciation and phonics (14)
Writing (10)
Listening (8)
Reading (8)
Foundation (5)
Dictionary skills (4)
Dictation (1)
Resource type
Worksheet (105)
Student activity (40)
Game/quiz (30)
Starter/Plenary (23)
Complete lesson (22)
Differentiated (21)
Revision (16)
Role play/debate/discussion (11)
Homework (8)
Knowledge organisers (6)
Presentation (6)
Teaching ideas (4)
Exam preparation (3)
Teaching pack (3)
Assessment (2)
Display/posters (2)
Templates (2)
Self-assessment (1)
Edexcel (2)
All exam boards (1)
WJEC/Eduqas (1)
Search results
Year 7 French Homework | Teaching Resources